The power of automation has smartly transformed our lives. With the word, 'smarter' here, it means the ease of doing our everyday chores without any extra effort. From smartphones to wearables; data-driven, intelligent technology has touched every aspect of humans in the past few years. These technology-driven systems not only interact with their human owners but also with each other.
One of the significant shifts driven by automation is the transformation of workplaces into connected systems where people and technology work hand in hand. And computer interaction with the human workforce positively impacts productivity and business efficiency. The Internet of Things (IoT) has shaped a new ecosystem to help people manage their work from any part of the world and perform diverse tasks of the modern workplace. From interviews to onboarding, automation is in every aspect of a smart workplace.
While most of us are excited about the technological revolution of this century, some are afraid that IoT, AI, and the robot will replace them. But the results show the opposite; these technologies are helping us do our jobs in the best possible way.
There has been tremendous growth in productivity because we don't need to spend much time on monotonous tasks. Instead, we can use our skills and time on the many productive tasks to bring out a positive output.
Let's take a deep dive into the various benefits of an automated workplace.
Fast filling of a position
The longer it takes to fill a specific job position, the more a business can miss out on the desired employee plus other employees replacing that empty position. Using more efficient recruiting strategies are, therefore, essential to avoid the substantial loss of productivity.
Using software applications like applicant tracking system and candidate relationship management can strategize almost every step involved in the recruitment process. It reduces the time of candidate shortlisting and helps schedule and conduct interviews without any human intervention.
Additionally, the software helps save significant hours of recruiting teams, and in this way, organizations can hire the right candidate at the right time.
Effective onboarding processes
It's predicted that around 20% of employees tend to leave a company during the first 45 days of their job. The companies need to build an effective onboarding process to reduce this figure.
An efficient onboarding process less the time is taken by the employee to reach its full potential at the workplace, which is between 8 to 12 months. These processes also boost employee productivity by 54% and increase retention rates by 50%.
Here, robotics can help organizations improve their onboarding process by including workflow automation. The method consists of regular emails to help them understand the business in their first few weeks or when to achieve a goal, assist them to schedule their meetings automatically.
Positive work culture and increase employee retention
Sometimes, tasks become cumbersome for employees, and they tend to lose interest in their jobs resulting in a turnover. In this competitive market, it becomes difficult to find their replacement on short notice. So, it's better to work towards retaining current employees and create a sense of belonging for them.
When their tasks are automated, employees feel more valued and content. Automation can optimize repetitive tasks, saving employees' time, and get more work done in less. It boosts employee productivity, and in this way, companies can retain a large pool of talent.
Stronger brand value
Maintaining a stronger brand value is vital to engage talented candidates to apply for a job role in a company. If a company has poor brand value, candidates can change their minds and reject a job offer.
A smart workplace can help companies improve their value by automating tasks throughout an employee's journey. Companies can use the Application Tracking System (ATS) to shortlist candidates. Besides, the interview scheduling process helps enhance the employee experience. As a result, companies can stand out in a competitive market. Automation also allows organizations to gain recognition through word of mouth. When the employees have a better experience, they will talk positively about their employer to family and friends. This good impression makes people spread the word, and job seekers are more likely to apply for best-fit roles in those companies.
Automation is the future for organizations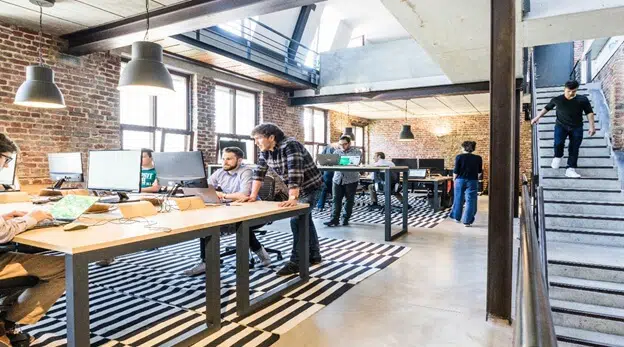 Eventually, businesses strive for growth and gains. To make a smart workplace, you need to make some investments on the higher side. But this higher investment can be a boon to your long-term goals. As automation uncomplicates tedious tasks for employees, they are more likely to focus on productive ones. So, hiring the best talent, automating tasks for them, and retaining them will help businesses generate more revenue. As a result, they can hire more, make more investment for products and services, and create new ones to share with their potential customers.
Let's Make Your Workplace Smarter.
Get our Services Now
Subscribe to our Blogs and Newsletter
---
You will receive updates about new blogs, newsletters, new research article in technology and business domains