Newer technologies like micro locations, Beacons are changing the way consumers interact with retailers. It's opening an all-new interface for shoppers to consume information on the fly. It is also creating a huge opportunity for marketers to engage consumers.

Shoppers Are Mobile

Today, the question of online versus in-store shopping is as irrelevant as, well, Radio Shack. Physical stores aren't competing with online stores: they're supplementing online options and providing some experiences that online simply can't provide. Moreover, as Inreality notes, you may be surprised to learn that 94 percent of all retail sales were made in brick-and-mortar stores in the U.S. in 2014. The more pressing question is how physical stores are adapting to mobile.

As the PEW Research Center points out, the traditional notion of going online involved sitting in front of a computer. No more. Increasingly, Americans rely on smartphones and other mobile devices to go online and shop. Sixty-five percent of American adults own a smartphone (up from 35 percent four years ago), and the percentage is even higher among younger demographics. A small percentage doesn't have broadband service at home and relies on a mobile device as their sole source of online access.

According to Think with Google, 84 percent of shoppers in physical stores use their smartphones to get information about products and comparison shop. B2C reports a Stanford survey in which nearly half of those in the millennial age group had downloaded a mobile shopping app.
As Retail Dive points out:

These shoppers are checking for deals from the retailer (or its competitor), consulting with friends via text while trying on wares, and updating their social media accounts while waiting in line. Retailers have and will continue to make shopping—both in-store and out—a priority by investing and mobile apps and beacons for in-store use, in-app shopping capabilities, mobile payments in stores and mobile advertisements.

Mobile Retailer Apps

Every retailer should have an app. The problem is that smartphone users typically use just five non-native apps (those that don't come pre-installed), according to IBNLive.

So how does a retailer persuade a consumer to download its app and become one of those five regularly used, non-native apps?
A good mobile app is more than just a convenient platform to purchase something. It must also provide a personalized "experience" that relates both to the consumer's interests and conveys details about items on the physical retail shelf. According toInternet Retailer, "61 percent of U.S. consumers have a better opinion of brands that offer a compelling mobile experience than brands that do not, and 40 percent will turn to a retailer's competitor based on a bad mobile experience."

How do you provide a better experience?

Push-Based Apps

The first apps were pull-based, meaning the user had to do something: request information, look up a product, put something in a shopping cart. Today's apps are push-based, meaning they anticipate user needs and provide pertinent information based on those needs. So if the app "knows" a user is interested in a certain brand or product, it will automatically send updates about pricing information or availability without the user having to ask about it. Dries Buytaert, the founder of Drupal web publishing platform, describes it as, "In the future, content, products and services will find you, rather than you having to find them. Puma will let us know to replace our shoes and Marriott will automatically present you room options if you missed your connecting flight."

Beacons and Mobile Ads

In-store beacons—small and relatively inexpensive Bluetooth devices placed throughout a store—provide an added dimension to the push concept. If the shopper allows beacon notification, these devices transmit not only product information but also sales notifications whenever the shopper is within range. Beacons can also be used to display ads customized to the individual shopper's preferences and interests.

Another key feature is the potential to process immediate payment for an item, eliminating the need to queue at a register.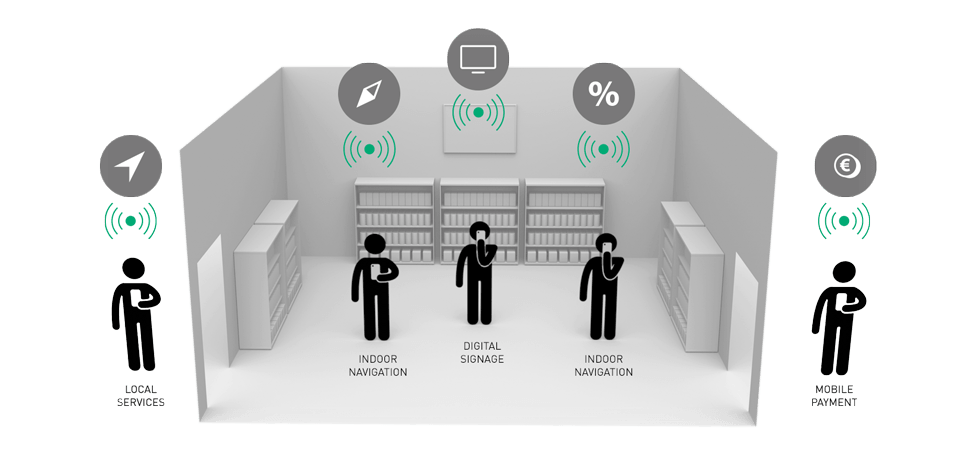 While Apple Pay and Google Wallet aren't yet mainstream, they are well on their way to widespread acceptance. Retailers have had to upgrade their point-of-sale (POS) systems to accommodate the new EMV-chips major credit cards are using to replace magnetic stripes. These new systems typically also have the capability to accept credit card information (as well as store loyalty cards and gift cards) from a mobile app. The convenience factor here is twofold: no need to carry physical cards plus the ability just to swipe and purchase at a product display and quickly complete a purchase transaction.

Extra Benefits to the Bottom Line

Mobile technology makes the shopping experience more efficient, more personalized and more convenient. A positive customer experience is essential to any retailer. But there are added benefits to the retailer's bottom line. Enabling customers to get information and make purchases almost automatically means less need to staff cashier and customer service positions. That can not only reduce labor costs but eliminate the time and hassle of scheduling a workforce that is frequently characterized by high turnover and unreliability.
Subscribe to our Blogs and Newsletter
---
You will receive updates about new blogs, newsletters, new research article in technology and business domains