Industrial IoT – Current Perspective

Industrial Internet commonly referred to as IIOT integrates machine sensors, middleware, software and backend cloud computing & storage systems to provide better visibility and insight into a company's operations and assets. Complexity of industrial systems has outpaced the human abilities to recognize and address efficiencies, thus making it harder to achieve improvements through traditional means. This has created the operational incentive to apply new kinds of solutions which will help measure the efficacy of operations and thereby help optimize them.

Today IoT and enterprise mobility solutions are being used in silos essentially for managing manufacturing processes or managing business processes. Essentially both technologies focus on asset management – IoT being used for asset management from Operational Technology and Mobility for asset management from Information Technology perspective. Integration of both these domains would offer a unique paradigm for companies to have a unified platform to manage both IT and OT assets and have complete real-time visibility of their business operations – right from manufacturing to the last mile.

Mobility has always provided as a Go-To option for many business processes to deliver key data to stakeholders across an enterprise. Whether stakeholders wanted to query for a business KPI or consume a business transaction, mobility existed as a scalable interface for enterprises to access enterprise data anywhere – anytime. On the contrary, owing to the nature of data and analytical insights that industrial IoT provided, having a viable interface to key decision makers was always the challenge for IoT infrastructure. Convergence of EM and IoT would ensure that analytical insights provided by IoT platforms can now use the backbone of EM platform to deliver right insight to right stakeholders at the right time and help make an informed decision based on real data.

This approach of using the technology convergence of IoT and EM would offer some unique benefits that business and engineering leaders would need to know.


Improved productivity: IoT+ EM combination improves supervision, monitoring, and control process off as well as on the field, thus optimizing operations, improving productivity and efficiency.
Improved security: Enterprises are better equipped to prevent data breaches with IoT enabled devices ensuring better security. In case of a security breach, the connected infrastructure helps IT teams prepare for such events with a handy list of stats and suspects.
Enhanced prediction: Together, IoT and Enterprise Mobility can promptly track and examine the quality,adherence to standard processes, actions of operators, and equipment health. Data generated through tracking can help identify possible equipment breakdowns, process bottlenecks, operational delays, etc. in advance,providing supervisors the opportunity to mitigate shutdowns.
Functionalities from IoT + EM connected infrastructure renders business operations more agile, efficacious and dynamic. It enables companies to develop more productive and effective business strategies to reduce OPEX.


IoT in Industrial Settings

Industrial IoT is applied to critical equipment that have an on/off or gradient switch and are connected to the Internet. Critical equipment are monitored and controlled by control systems, and the data is stored in historian in time series format along with associated process information.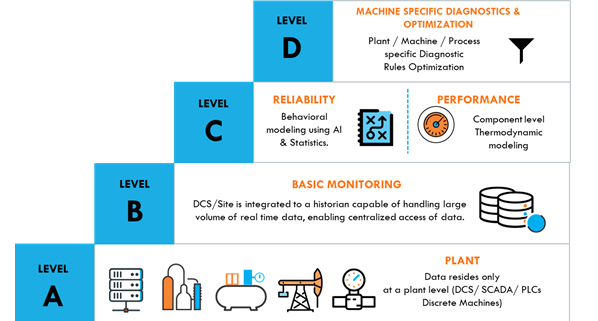 Process and equipment data is analyzed by analytics solutions, such as Invasystems' ProcDNA. Subject matter experts provide the context to operational process and to support the underlying business logic.

Outcomes of analysis are sent to operators, supervisors, and managers who can make changes in operating processes if necessary.A proactive action taken with such data can save unplanned downtime, and associated loss of revenue.

Solving the biggest challenge in IoT implementation: low cost data collection.

Biggest challenge today is lack of rich data in absence of digital sensors to capture process parameters. For companies, buying more sensors means increasing the investment, without an assured ROI.In absence of sensors connected to the Internet, mobile devices can be used to capture operational information.

Invasystems' out of box mobile apps can record process parameters reducing the investment cost associated with installing new sensors.

These applications also enable managers to send instructions or change requests to field staff as notifications. This reduces reaction time required to optimize the associated process and helps the team implement more proactive maintenance practices.IoT establishes an extensive network of interconnected devices, and field team's mobiles become a part of that connected network in this approach. IoT+ EM infrastructure empowers field staff to better manage their jobs by using cloud services and mobile devices.

The enterprise applications are often costly, intricate and complex for any individual or small to medium size organization. But mobile applications that offer similar functionality, will replace traditional enterprise systems like ERP, CRM, etc. For SMEs these mobility applications will become a crucial part of their process optimization and empower the field staff and managers to make better business decisions.
Subscribe to our Blogs and Newsletter
---
You will receive updates about new blogs, newsletters, new research article in technology and business domains