What our UX and UI expertise bring to table
From Concept to End Product
Our UX team specializes in thoroughly understanding your idea, developing the concept further right on to delivering a real-word product. We understand that we might be required to come in it any stage of your product's life cycle and we are well-equipped to act as your design partner whenever needed
Optimizing your user flows and designs
We take pride in putting users at the center of everything we do. That makes us an ideal partner when you want to take your existing products or features to the next level in terms of UX. So whether your product is facing a UX crisis or is suffering from a clunky interface or somehow just doesn't 'feel right', get in touch
Optimally responsive!
Somewhere along the line mobile-first started meaning focussed on mobile-only. That is a mistake. We make it a point to ensure that our designs work optimally across all required screen sizes.
Clickable prototypes
We concur with the guys at IDEO when they say 'If a picture is worth a thousand words, then a prototype is worth a thousand meetings'. We deliver clickable prototypes as a mandatory step before design sign-offs because there's nothing like playing around with something that feels like the real thing
The UX process
From detailed requirement gathering to interviewing users to creating user personas to clarifying user flows to wireframing to soliciting user feedback, we believe that a great user experience is the result of a great user experience process. And all this is before we event put cursor to pixel!
Design Sprint
The fresh new way to build products that users love. Hook up your company with a product strategy and UX design A-team. Build better and faster with Design Sprints that deliver. Compress work that could potentially take months in a few days.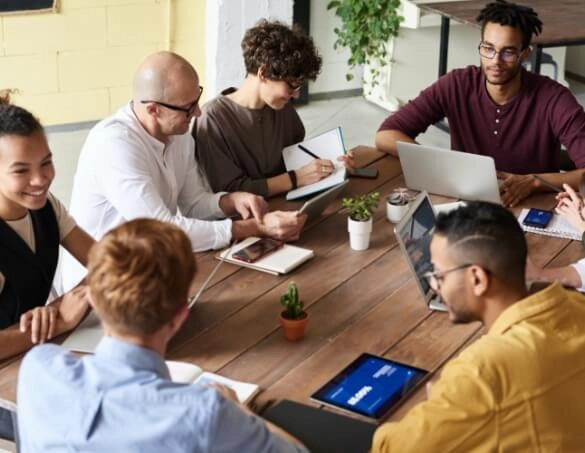 Product Development
New Products Done Right – We'll help bring to life your brand new concepts. Applied Design Thinking methodologies will ensure your new product or project will be loved by your users while meeting business goals. Transform Current Products Users struggling with complex apps? We'll help deconstruct the complexity and deliver an user experience that's intuitive without sacrificing vital features.
UX for Intranets/O365
Three things (utility, usability and emotion) are the basic ingredients of User Experience (UX) An experience without utility has no purpose. If your product or service doesn't fulfil a need, it is – literally – useless. A product you can't use is as bad a product that has no use. And if the emotional element isn't right, people either won't be drawn to your product, or worse, will be deterred from using it.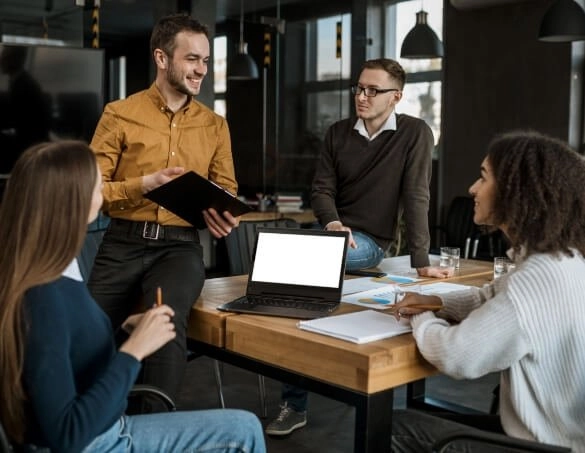 Our Team Experts In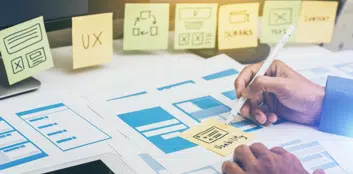 Detailed req. gathering
Competitive analysis
User research
User personas, stories & flows
Usability testing and test cases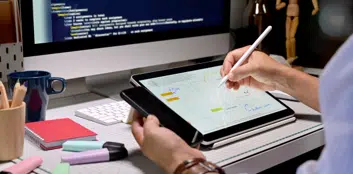 Wireframing
Prototyping
Information architecture
Interaction design
Visual design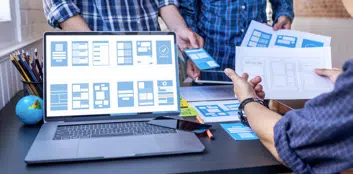 HTML5/CSS3
Bootstrap
JavaScript
JQuery
Angular JS
No Busy Work. Just Results
Hit refresh on legacy systems
Over 70+ projects in the last 10 years
Frequently Asked Questions
What is a design sprint?

Design Sprint is a five-day process for answering critical business questions through design, prototyping, and testing ideas with users.Companies undertake design sprint to quickly and collboratively work on business problems among their user to find our probable solutions.

How can i make employees more engaged with better user experience?

The only way to make a great design is to understand what users do and need. This needs applying various user research methods to learn about employees, which in turn acts as ingredients for design and ultimately fills usability voids and exceeds user expectations. Simple and clean design, with personalization, content optimization along with excellent search also plays a vital role in engaging employees more.

How do i use UX in my Intranet?

Quality of User experience is critical for any Intranet. This should be based on employee needs and designed to address behavioral barriers. Designing the user interface, dashboards needs conducting workshops, interviews, sketching and wireframing and card sorting exercises with intended users. The whole purpose of User experience is to provide a common experience that would connect people and work processes across the company.

How User experience is useful in new products development?

User experience is one of the highest weighted criteria for new product development. Companies want products that provide meaningful and relevant experiences to users. Design of the entire process of acquiring and integrating the product, including aspects of branding, design, usability and function, features along with product demonstrations to ensure that solution is easy to use.

What is the standard output of a design sprint?

Every Design Sprint should results in a clickable, high-fidelity prototype not a sketch, wireframe or a paper wireframe. This prototype should have been tested by real users Design Sprint also provide product direction where in one gets a clear insight on what works and what does not and a clear understanding on product roadmap.

What is a design thinking workshop?

Some very straight benefits which design systems bring to companies are increased velocity and time to market, increased product value, increased collaboration and knowledge sharing along with less wastage of time and money.
"Great Insights for the team using the charts developed with User Inputs inline with real ground situations.Keeps us prepared"
Anup Agarwal
IT Manager
"Rafflebuddy platform has enabled us to give our users an experience to remember. High Fives to SpadeWorx team"
Ameya Hete
CEO and MD, Valuable Group
"Our Sales Intelligent Portal has really helped our team to quickly get the information they need and act on it. Unmatched experience"
Sales Team Leader
Data center Business.
Case Studies
Consumer-grade UX driven corporate intranet sites for Aditya Birla Group
The Business Problem Challenges ABG's had implemented an intranet to provide various features and functionalities
Building a vibrant community using Rich, Interactive Intranet solution
The Business Problem Challenges The portal UI and overall branding
B2C Raffle Platform on Azure Cloud for Media and Advertising Conglomerate
Valuable Group is a leading player with primary business interests within Media & Entertainment, Education and Technology.
Related Blogs

An Interview with Jennifer Aldrich
Interviewed By Prafull Mane Jennifer Aldrich is a UX &

An interview with mark kashman
An Intranet That Doesn't Engage Will Grow Stale and Unused.

To convince clients about UX, it is important to speak the client's language
David Juhlin is a Senior User Experience Researcher at PTC,